A workbench is a piece of furniture with a flat top surface, usually elevated off the ground, with various uses. Workbenches are found in buildings and homes and a range of styles. In some cultures, workbenches were used as rudimentary chairs for sitting while working on tasks such as weaving. Do you need a place to work but don't want to spend a lot of money? Or do you already have a workspace but feel that some things are missing or could be improved? Do you want to improve the quality of your workspace without spending more? DIY Workbench Plans or woodworking bench can be a great place to start. It can give you the confidence to start working after a long hiatus and allow you to see how other people have built their own. You might be pleasantly surprised at what you discover.
DIY Workbench Plans:
I have learned that making things with your own hands is very rewarding. When you are looking for DIY workbench plans, you should always adjust them to fit your needs and your shop. And no matter what, be safe and have fun! Here, you will be shown a list of all the workbench plans ideas you could use to create an amazing and functional workbench that will suit your working environment needs.
So, without any further ado here is the list for your help. All you need to know about workbench plans that are easy to make and look great. The end result is always outstanding if the plan is used properly and instructions followed.
DIY Pete's Simple Workbench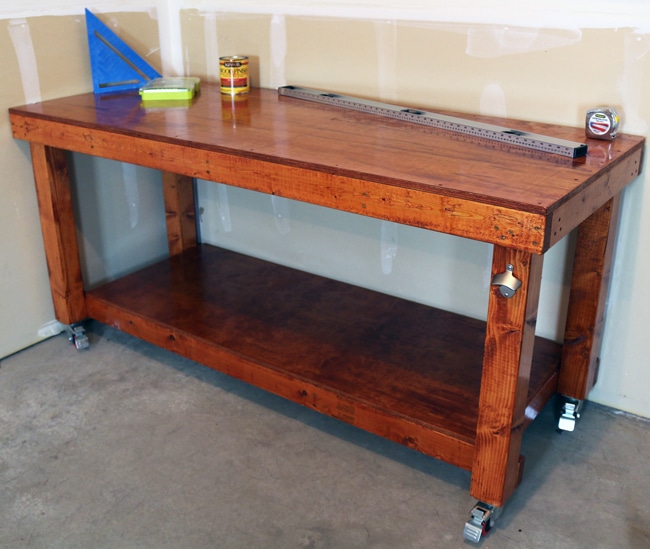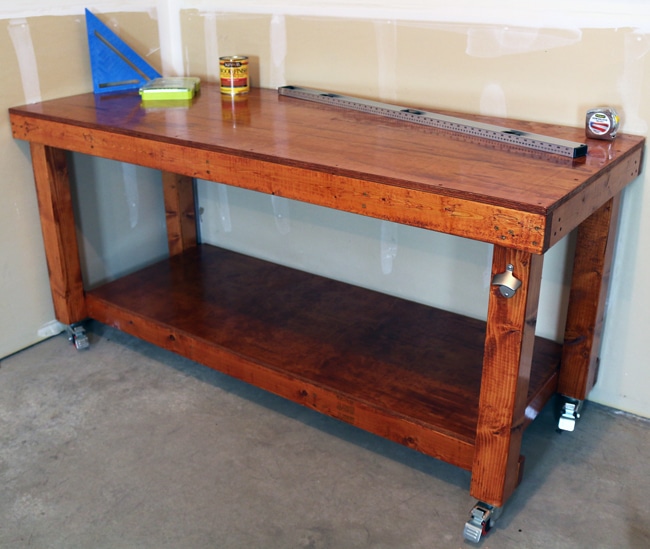 This DIY workbench is inspired by the idea of using older and wasted materials in workable ways. It will be a super stylish addition to your modern home decor and also be a great option to show off your mastery of DIY skills. The size and price make it a good choice for a novice builder or someone on a tight budget. You don't need any fancy tools or exotic hardwoods to create something beautiful with this project; just some woodworking skills, basic tools, and what's pictured here. Adding tires will make this table more useful for the crafter who always wishes for their tool station to slide along with them.
The lumber sizes of 2 x 4 and 4 x 4.
Two plywood sheets (4 x 8)
½ inch thick sheets
Four-inch caster wheel
favorite color stain
Super Simple $50 Woodworking Bench From Family Handyman
This $50 woodworking bench is a great way for beginners to learn how to use tools or an excellent addition to any workshop. You can organize your bunch of tools ad equipment with this admirable workbench; it will be a stunning option to make valuable changes to your way of working. This amazing DIY table will act as a multi-task work table that doubles as a tool shelf. It will be an inexpensive option to utilize your spaces efficiently. The given woodworking bench is designed to make your life easier when working on projects, and you'll also admire its excellent range of useabilties.
2 x 4 framing lumbers
4 x 8 sheets of plywood
pegboards sheets
A Workbench From FineWoodworking That You Can Build This Weekend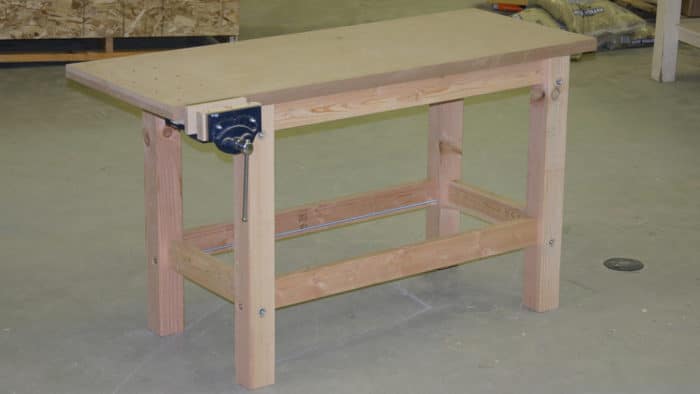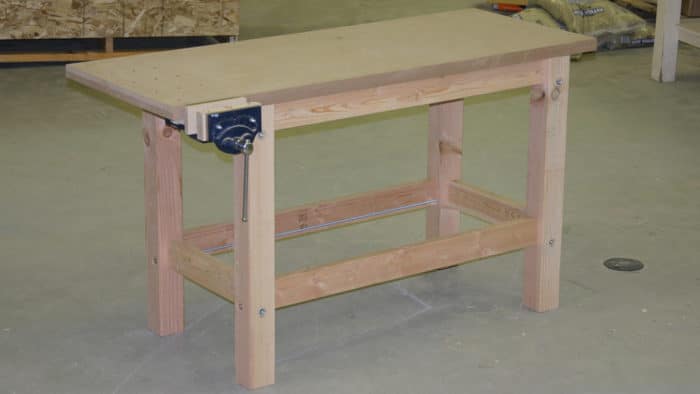 This wooden Workbench will be excellent to Build this Weekend; it is designed for those with limited workshop space. The bench has a simple design worked up using inexpensive materials that can be built for less than $100. It will easily fit in a small garage or basement, plus help you efficiently while DIYing different useful projects. If you are new to woodworking and desire to build a workbench that will help you practice, this beginner's Workbench is a great option. For more advanced woodworkers, this solid design allows complete access from all sides of the work surface. A magnetic steel top surface helps keep your workpieces in place when using several tools at once.
Materials
Mobile Flip Top Workbench From Saws On Skates
Mobile Workbench is perfect for the do-it-yourselfer or woodworking hobbyist looking to create their own custom projects in the comfort of their own workshop. This Mobile Flip Top Workbench is a sleek addition to your shop. This design has two work surfaces with a minimalist look that is ideal for a hybrid workshop, yet compact enough to fit into a small space. . The top surface can be left bare, or you can add a power tool (like a miter saw or table saw) if you wish.
Materials
2 x 4 framing timber
1 x 2 as well as 1 x 3 timber.
2 x 4 plywood
4 x 8 sheet
Mobile Workbench With Built-In Table & Miter Saws By Beerdidtrev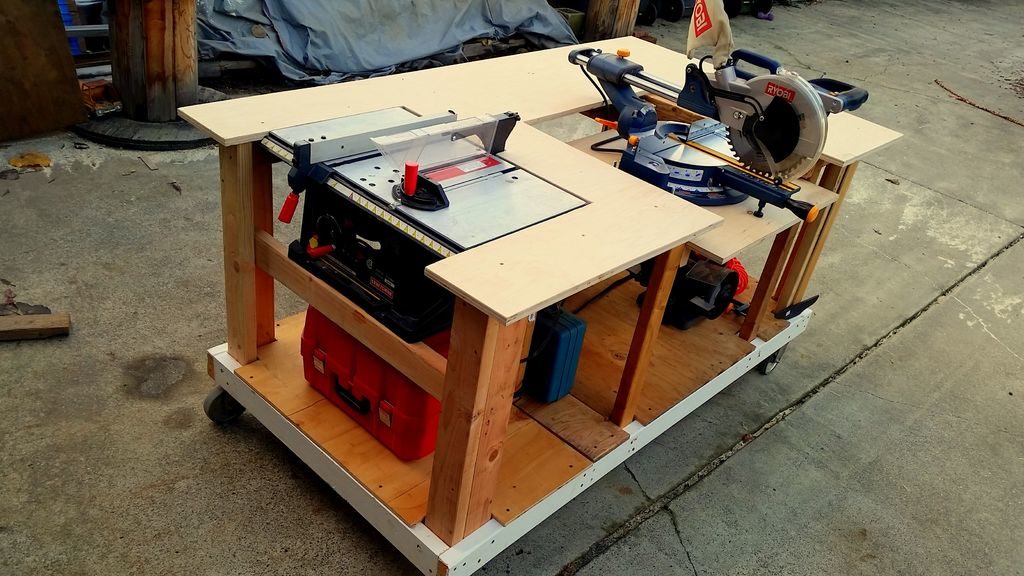 This design is meant for woodworkers that enjoy their power tools and want a more permanent solution to get all the tools, saws, and electrical equipment in a single place. It's easily moveable from one place to another cause of the sliding iron tires installed at the bottom; this feature makes this workbench excellently useful and valuable—this amazing. You can install several tools on this workbench; it will surely be a great masterpiece for your garage and workstation.
Supplies
11/16-inch plywood
T-star screw
Level
clamps
square
Impact driver
Mitter Saw
Circular Saw
Jig Saw
2×4 Workbench By The WoodFather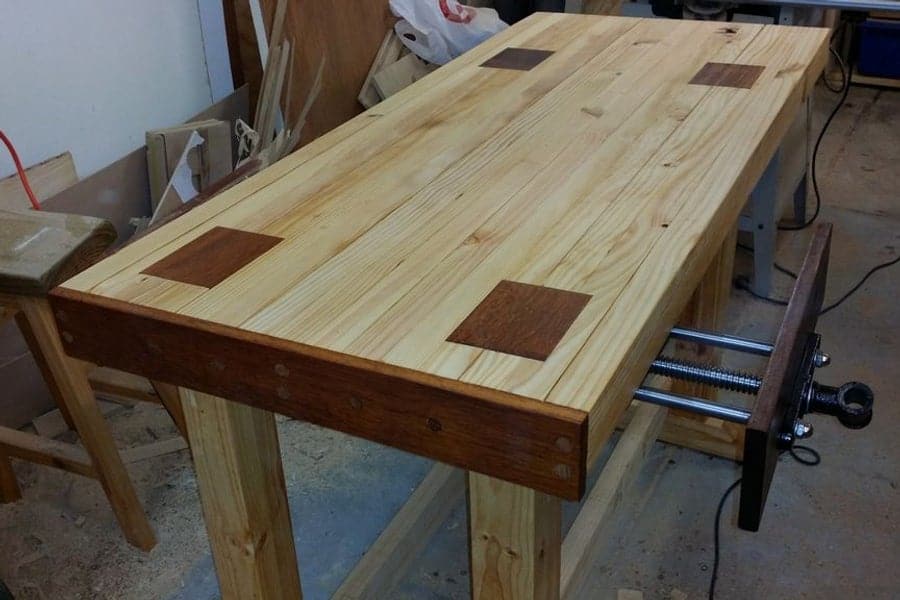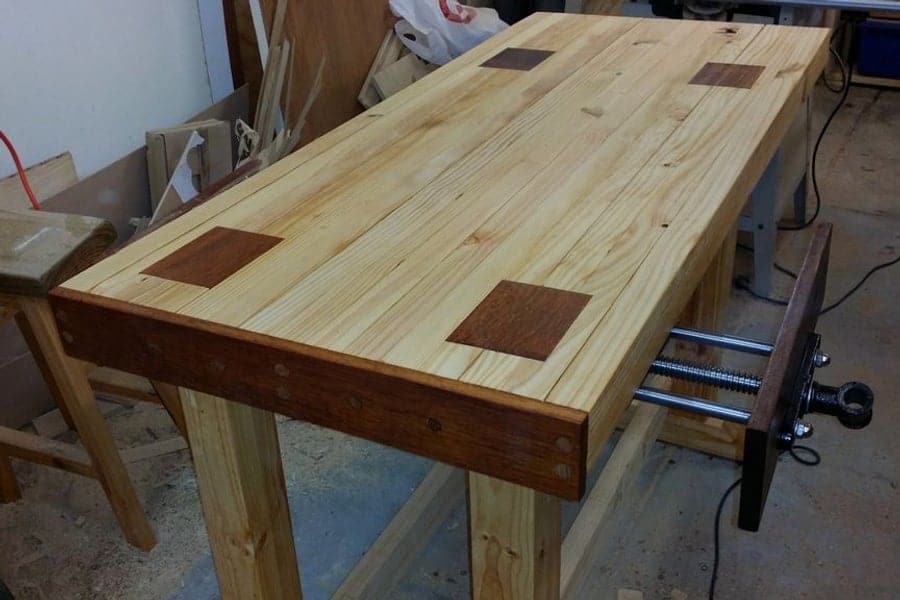 A workbench with a built-in miter saw and table will help you get the job done quickly and easily. This bench style can be useful to anyone, and beginners can take on the challenge of working with mortises and tenons successfully if they take their time and work down to the cut lines without going over them. A heavy top workbench like this is ideal for any shop. You'll have all the space you need to complete projects, large or small, whether making an end table or constructing a complex puzzle. And with its mobile base, you can move it from job to job as needed.
Materials
2 x 4 timber
circular saw
jigsaw
wood glue
DIY Portable Workbench With Storage From Rogue Engineer
This new portable workshop features a work surface that will seat two people and plenty of storage for all your tools and woodworking supplies. It may look not very easy, but it is very easy to build. And it'll be sturdy enough for any purpose you need, from helping kids do school projects to heavy-duty carpentry. The garage will serve as a tool storage station and for many other useful aspects indoors. You can stain or paint the interior whatever color you like. This tool rack is easily portable and always be great to show your excellent carpentry skills. There is an added paper over on the top surface to keep your working neat and clean.
Materials
¾ inch plywood
shelf pins
metal tubing
rosin paper
Easy Build Workbench By Ursula Carmona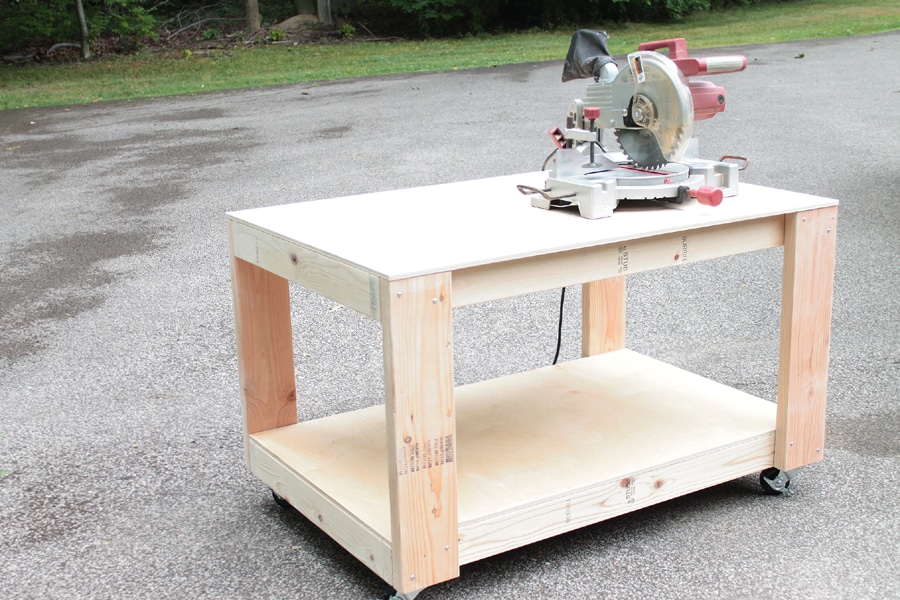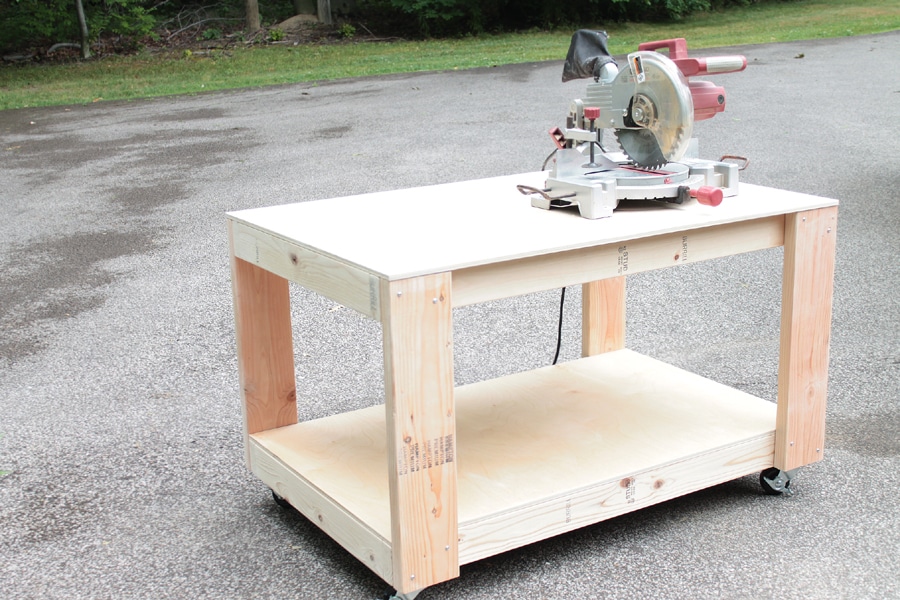 Our Easy Build Workbench is the perfect base for your shop or home workshop! Featuring a durable and lightweight hardwood frame with smooth-rolling casters for easy transport. Build multiple benches to fit your specific needs! It will surely be a simple, inexpensive workbench idea that anyone can build. This Easy Build Workbench is stronger and quicker to build, plus you'll surely enjoy its creation. A variety of finishes are available to make this DIY workbench an excellent fit for your needs.
Needed Material:
Birch plywood
2 x 6 boards
wider lumber
Real Woodworkers Workbench By Jdege
This project will require you to really get your hands dirty, but the result will be well worth it. You can build a traditional workbench using MDF and solid wood components. Still, instead of a benchtop just using stain, it will be a super admirable and useful addition to your workstation. This sturdy and functional workbench will help speed up your projects and also be excellent helpful to be a part of your DIY room.
Materials
Oak covered MDF board
4 - ⅜" all-threaded rod, 24"
long
dowels
nuts
washers
clips
Folding Workbench With Storage  
Our step-by-step folding workbench with storage tutorial will guide you through the process of building a wall-mounted folding workbench. Assemble all parts and use scraps to make this DIY project easy to complete without spending lots of money. The bench comes with a complete set of instructions that clearly explain each step, along with clear pictures to help guide you through the build—a great gift for anyone who wants a functional storage solution for their tools or hobby supplies. Turn any wall space into your own personal workshop. It will be excellent to deal with the gardening tools, carpenter tools, and many other useful outcomes.
Materials
Thinner 1 x 1.5-inch stock
2 x 8 timber
2 x 8 pegboard sheet
Easy DIY Workbench:
With a little bit of help from a friend and the internet, you can make a simple workbench that is practical and versatile. The plans allow you to pick your workbench's size and provide step-by-step instructions on building a great-looking workbench in your own home. You can also use the design for storage solutions around the house. The steps are easy, with clear instructions along the way. For under $50, this project will teach you how to build almost anything you need.
How To Build A Workbench With Storage:
A workbench is essential for all makers and artisans, but not everyone has the space or the know-how to build one. It's perfect for any home garage or workshop using hand tools. There is an added shelf at the bottom which allows you to keep different useful things and tools nearer to you while Diy. I would definitely recommend this product due to its affordable price along with high-quality features offered.'
How To Build A $100 Workbench:
A simple, 4-hour workweek project transforms an old wooden picnic table into a sturdy workbench for less than $100. With the help of a few tools and some wood glue and screws, you can build yourself a new desk/workstation for only $100 or less in just over 4 hours over two days. I will show you step-by-step instructions on how to build this project.
DIY Workbench:
Here is a smart workbench that can be built by anyone independently. The basic design of this workbench uses just 12 plywood connectors. This DIY workbench allows you to assemble it yourself without any professional skills such as carpentry skills. It's the simplest and smartest design for your garage or house, plus you'll surely admire its easier making. This amazing DIY Workbench is a smart workbench that helps you build furniture or other projects quickly and easily.
DIY Garage Workshop Workbench:
Build a stylish, functional garage workshop workbench with storage underneath! This is the perfect way to get more done in your garage or shed. This amazing masterpiece is sturdy, workable, and can be used as a bench. It's perfect for any garage or work area, plus you'll surely love the easier assembling and excellent features of this workbench.
DIY Workbench Plans:
The DIY Workbench Plan is an easy-to-build workstation that allows you to use it as a storage area or work around it standing on the floor. You can keep different tools you need for DIY projects and have great useful outcomes from this superb DIY workbench. With the help of this DIY Workbench Plan, you can easily build your own workbench at home to suit your specific needs. It has a storage space that makes it a little more useful when putting tools and materials inside. This sturdy workbench moves on caster wheels, which means you can move it anywhere you want in no time
DIY Mobile Workbench With Table Saw:
A mobile workbench is a must-have tool for carpenters, cabinet makers, and all other woodworkers. It gives you a place to work that's portable and secure, perfect for Diy projects. This will be a great place to innovate your DIY skills while still having the luxury of moving the workbench around as needed. Adding 2-3 drawers and the rolling casters will make this workbench more useful and excellent to be a part of your DIY station.
How To Build A DIY Mobile Workbench:
Our How To Build A DIY Mobile Workbench is designed to help you do all your craft projects around the house. It is low to the ground and provides an excellent working surface for any number of activities. There are added storage shelves underneath this workbench, making it well to accommodate the different tools and supplies required for any Diy project. The casters make it easy to move around as needed and make storage simple when not in use. This larger-sized DIY workbench will be great to be in your workstation long for years.
How To Make A Workbench:
Here's a simple and easy-to-follow guide for you to build your floating workbench. It may look not very easy, but in reality, it is a very simple design. You can follow this step-by-step guide and build your floating workbench! This is not portable but has an excellent number of useabilities, pushing it at the top of the list in the workbenches ideas. You can make it fixed on the wall to fulfill your crafty needs, although the upper section and space underneath it will be free for other usages.
DIY Portable Workbench:
Whether you're building a deck, constructing a shed, or perfecting your woodworking skills, our Portable Workbench with Storage is the ideal solution. This worktable is constructed of select hardwood solids and veneers for strength and beauty. There are several added drawers that make this workbench excellent to deal with the storage of everything, even from the tiny screws and bolts, which is always a hard task for DIYers. It will be a super functional and inexpensive woodwork bench, and in my opinion, everyone has to try it.