Do you want a candelabra for decorating your home and making your place look elegant? Then this article is for you. Candelabra adds beauty to a place and makes it stand out. Candelabras are usually expensive but do not worry because you would find 24 candelabra projects that you can make with ease in this article. They can be made by using different materials found easily. These Deluxe DIY Candelabra Ideas provide you with a wealth of information to help you purchase or make easy-to-assemble candle holders of all sizes, shapes, and styles.
DIY Candelabra Ideas
In addition to the basic shapes, pillars, bowls, jars, and plates, you'll also learn how to use crushed glass filler products to create delicate votive cup, candle holders. This is a list of amazing ideas to replicate for your home decor. You can use these ideas to create gorgeous candelabra, or you could even create your design. We've provided some tutorials and fabulous guides to make decent candelabra for your home decor.
DIY Dollar Tree Candelabra
It is time to get your crafting gear out and make a beautiful DIY candelabra for an upcoming party. You may find it hard to believe, but this gorgeous candelabra can be made for less than $5! This project is both cost and effort-effective; it is simple but looks stunning. This DIY dollar tree candelabra will be a great addition to your home decor since all you need for this project is $1. Check this awesome video out, and don't forget to share it.
DIY Tall Centerpiece Candelabra
When finding centerpieces for your big day, you can always consider this DIY Tall Centerpiece Candelabra. This DIY candelabra is the centerpiece of your dinner table or an ideal gift for that "hard-to-buy-for" mom. Of course, no one can imagine that this sophisticated piece is made of PVC pipes, but believe me, it is the main supply for this candelabra. The given tutorial is easy to follow and can be created in no time.
DIY Halloween Candelabra
This easy-to-follow tutorial shows off how to make a candelabra for your next Halloween party using simple materials. It will be a creepy decorative piece for your November decorations, plus also be a great option to express your mastery of DIY skills. The supplies needed for the project are not too hard to find, and you will get a nice result from them. A video tutorial is also attached below for your consultancy.
 DIY Metal Candelabra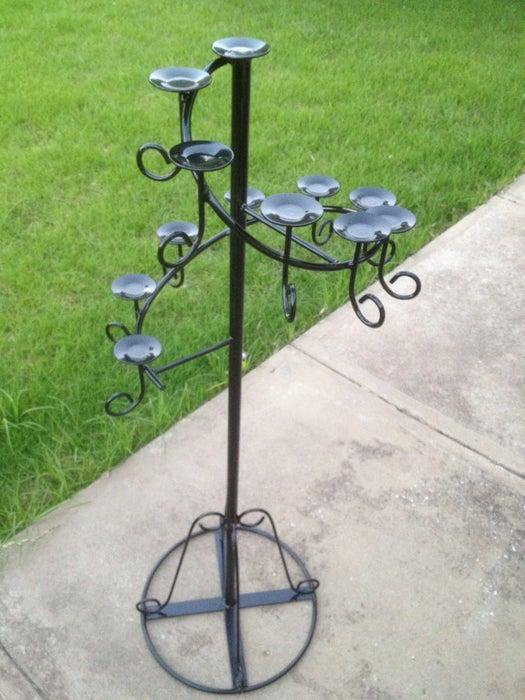 This DIY Metal Candelabra will be Great for decorating for Christmas or as a centerpiece. Make it with simple hand tools and a few power tools, it will surely be a decent addition to your home decor, and the stylized appearance makes it perfect for gift-giving. You can use the Sheet metal rollers and a few other handy supplies to do this stunning DIY project.
DIY Copper Pipe Candelabra
This fabulous DIY candelabra will be an art piece in your home when placed on your dining table; it will be a superb option to enhance your home's beautification and be great to show off copper colors in your home stylization. Although you can go with the three candle version of this DIY project, it looks too unique; there is a video tutorial below to help you step by step to make this masterpiece.
How To Make A Candelabra From Plumbing Pipes
This is a guide to help you make your very own DIY candelabra from plumbing pipes. You'll find all the materials regarding making this DIY candelabra in the plumbing store. Along with that, some different tools will also be necessary to accomplish your task. It will be a stunning centerpiece for your home decor. There's no need to buy expensive candleholders when you can make your own with items from your local hardware store, following this idea.
DIY Duchess Candelabra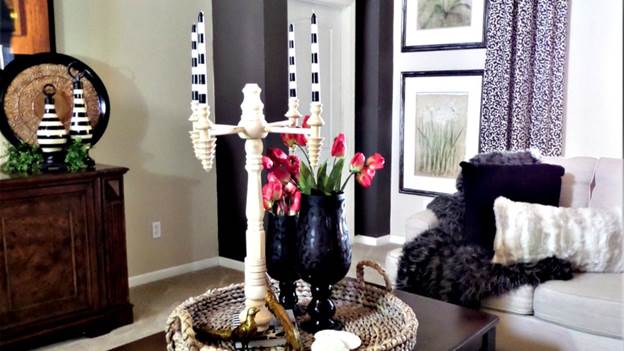 A DIY candelabra can be as simple as taking a couple of candlesticks and attaching them to a part of your wedding. Or you can go all out and build something unique. This fantastic DIY Duchess Candelabra is an example of it. It will be great to add a sense of modern stylization and to make your guest room and living room look gorgeous.
DIY Candelabra
Do you love the decor and all of the elegance a candelabra can bring to your home? Then you must have to try this stunning DIY project; its creation is too easy and least expensive, making this DIY piece a great alternative to the store-bought candelabras. It will surely be a hit among classical and minimalist decor lovers, plus you'll also desire to add it to your favorites list.
DIY Log Candelabra
This DIY log candelabra is perfect for a Halloween dinner table. This project is so simple to make; with a little bit of time and an understanding of what tools to use, you will easily turn your log into the impressive candelabra above. Within a few minutes, you can make this admirable candelabra for your dining table or add a superb masterpiece to your Halloween decorations.
Modern Wood Candelabra DIY
Simple candlesticks can add class to a dining room or other special event. This candelabra is an easy-to-make DIY project that you can complete in no time. This is one of the modern candelabras popular with home decorators, and it's easy to create your own using simple woodworking tools. It will fit easily on the mantel or side table in any room, and it makes a great gift that you can make yourself. Here's a quick tutorial on how to do it!
11. How To Make Wine Bottle Candelabras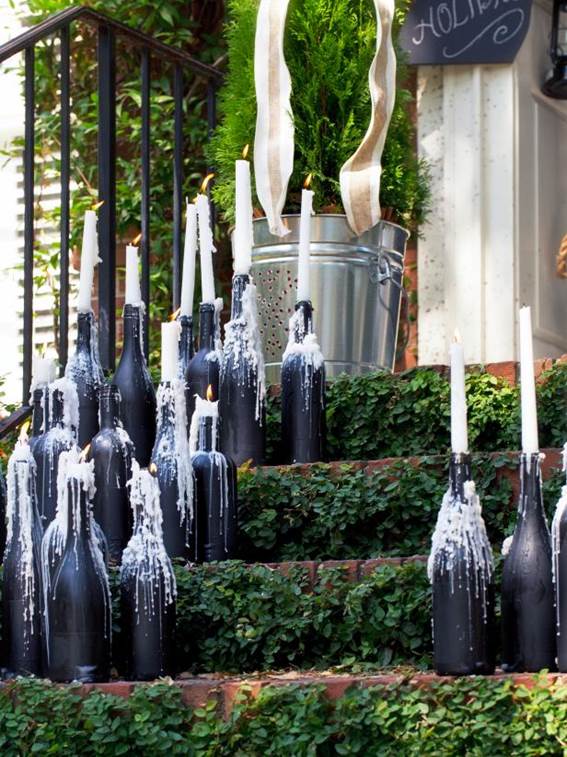 Wine Bottle Candelabras is an amazing piece of art and one of the best DIY projects I have seen. Here I will tell you how to make this cool masterpiece. It is very affordable, easy to make, and you can use it as your table decor or give it away as gifts to your family and friends. The making of this DIY candelabra project will garnish you with so many compliments you may forget you made it. You can hang it in your hall, above your dining table, or place it in any vacant corner of your room for decorating purposes.
How To Make A Yuletide Candelabra
In this project, I show you the steps to make a candelabra in the spirit of the 12 days of Yule, made something different for the candelabra each day. There are tons of great ideas for putting your spin on this project, and we go through each part and what choices you can make to personalize it with your personality or the spirit of your holiday gathering. You can use this idea to make a fabulous impressive appearance in your finding room, especially at the late-night party; it will be a great showoff for your mastery of DIY skills.
DIY Candelabra Chandelier
DIY chandeliers are great decorations for weddings, special events, or to give a new life to some retro candle holders in your home. Follow these steps, and you will have your very own piece that you can show off at any function or add some flare to your home. For this tutorial, you will need to use your imagination as you are not provided with all the materials required, but the general steps are presented for you to come up with something great.
DIY 34-Inch Tall Candelabra
With the DIY 34-inch tall candelabra, you can add an elegant feel to a wedding, dinner party, or any event. This is a great project for someone with a bit of experience as it involves hammers and nails. However, with some patience, you will be able to create something really special. If you are looking for ideas for your home, then this DIY project will be of help.
DIY Gold Candelabra
Here's a fun project that will add some flair to your home. 2D-Gold Candelabra is made using brass tubing and pieces of gold-colored craft wire. This candelabra is designed to be used with pillar candles, such as those you might put on a Thanksgiving dinner table or from the local church bazaar. Anyone can follow these easy step-by-step instructions and video tutorials to create their stylish candelabra that will look stunning in any room of their home.
DIY Candelabra For Halloween
A DIY candelabra that features a couple of items is the ideal way to give your Halloween dinner a spooky touch. Start with a cheap pomegranate decorative bowl, drill holes to insert candle holders, put in an inside lighting system, and you will have the perfect candelabra for your party. Follow this DIY guide step by step, and you can create this candelabra in no time at all.
DIY Industrial Pipe Candelabra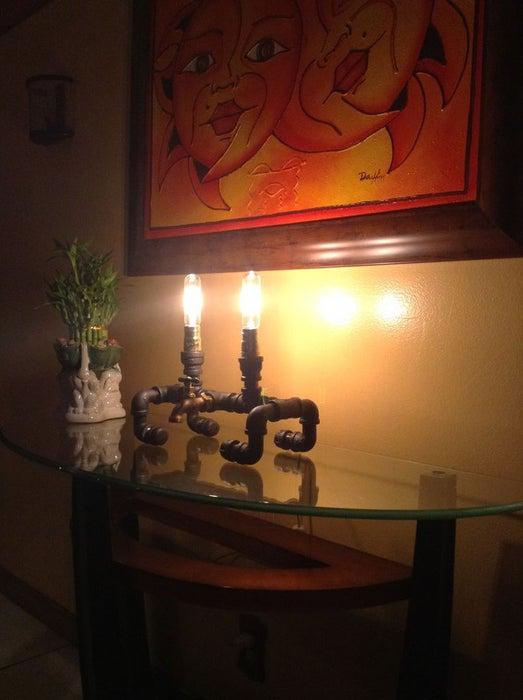 This beautiful candelabra is great for decorating a door frame, mantel, or even a tabletop. It's made with industrial pipes and plywood to create a unique and cool shape. This one has some very straight lines, but you can make yours look however you'd like. This is a professional look that would fit in many homes, restaurants, offices, and places of worship.
DIY Neopixel Candelabra
This awesome Neopixel candelabra can be used as a decorative piece in your house. It also works like a mood light that can make the surrounding areas in your home even more attractive. You would need some software to flash the led lights to give the pulsing effect of a candle. The project would take some time to complete but is highly rewarding once it's finished.
How To Make Candelabras From Old Bottles:
If you are a collector of bottles, then you might be interested in this guide. This particular guide is a unique one considering that it showcases how to make candelabras from old bottles. The plan is quite easy to follow and does not require any special tool. This is the most descriptive guide that breaks down all the processes needed to make candelabras from old bottles. The making process is relatively easy to follow, as long as you are careful when cutting and sanding the bottles.
DIY Gothic Candelabra:
Halloween is right around the corner, and it's the time of year to transform your home into a haunted yet beautiful place. And if you are a lover of spooky candelabra, you would love this DIY candelabra project. It looks fantastic and is made in the shape of a tree, giving it a bit of rustic touch as well. For the making process, you will need wire and a few other supplies.
DIY Wine Glass Candelabra:
A simple candelabra made out of wine glasses. Fun, cheap, and easy project for any wine lover. Use old wine glasses to create this adorable DIY Wine Glass Candelabra, perfect for the upcoming holidays. Designed to light your dining room table or buffet in a low-budget, elegant way, this candelabra is as beautiful as it is simple to make.
DIY Bloody Candelabra:
This DIY Bloody Candelabra is a perfect decoration to use for a Halloween party or any other spooky occasion. The instructions are fairly easy to follow, and you can find all the materials at your local hardware store. The candelabra was purchased from a garage sale; however, it doesn't matter what brand of candelabra you get for this project.
DIY Driftwood Candelabra:
This DIY Driftwood Candelabra is a great project to make if you like running out to pick up driftwood and need a place to use it. It's also perfect for beach homes and cabins looking for some extra candle ambiance. Why not twist your wedding vows or sayings into the rope to hang the weights? You could even hang on the rope from above and make the whole thing swing. Be creative!
DIY Candelabra For Halloween:
Are you up for a Halloween challenge? If you are, you will surely love making this candelabra from PVC pipes and a few other supplies. Have you ever wanted to make your very own candelabra? When Halloween comes around, it's bound to be the center of attention. This guide will teach you how to create your candelabra from PVC pipes. It's super easy to make and won't take you long. All you need is a drill, mandrels, and glue, all common tools in many homes.