Candles are great for creating a romantic atmosphere or ambiance at dinner. But if you're tired of placing tea lights on your coffee table, we have great DIY candelabra ideas to make your home feel more elegant. Check out this collection to find the perfect one for you. These are beautiful and easy to create and will set the ambiance perfect for any occasion.
Easy DIY Candelabra Ideas
Transform your living space with DIY candelabra ideas. This easy DIY project will add sparkle and charm to any room in your home. Choose from various styles and materials, including glass, metal, and wire. You won't believe how easy it is to create your own custom furniture at a fraction of the price! Proper lighting can dramatically transform the appearance of a space, but accent lights should be addressed and addressed. Here are 21 ideas you can easily DIY to add a charming accent to any room.
Tips To Make DIY Candelabras
DIY Candelabras are the perfect way to add magic to your home decor. Here are some helpful tips for making your own candelabra:
Choose your candlesticks: You can use any candlestick you want, but we recommend choosing ones with a more intricate design to hold more candles. We also recommend using light-colored candles so that they don't compete with the design of your candlesticks.
Select a base for your candelabras: You can choose between using a plate or another decorative item, such as an old book or a piece of driftwood. Make sure that whatever you choose has enough space at the bottom so that there is enough room for all the candles to sit comfortably without tipping over!
Decide how many candles you want in each one: The number of candles will depend on how large (or small) your candelabras are and what color scheme you're going with! For example, if you're using dark colors like black or navy blue, then it might be best to have fewer candles than if you were using lighter colors like white or yellow because of those colors.
Candle Centerpiece Idea
This DIY Candle Centerpiece is a fun, casual, and easy way to add warmth and beauty to your home. Learn how to make candles glow beautifully while they last. Suppose you are looking for ideas on where else you can use this centerpiece and what materials you need to learn more scroll down. The basics involve taking a candle, wooden candlesticks, and wire mesh to create a DIY centerpiece for any table setting!
DIY Dollar Tree Candelabra
Here is a fun DIY project using the cheap, easy-to-find candelabra from Dollar Tree. You can create this for under $5 with glue and studs. These are great for weddings or any special occasion. The directions are easy to follow, and the finished product looks great! This is a much cheaper alternative to buying a plastic one, with the same look that adds an elegant touch to your decor.
DIY Tall Centerpiece Candelabra
Add a bit of glamour to your next party with this DIY centerpiece. Centerpieces are a great way to show off your style and personality and create the perfect mood for any occasion. The design is easy to make but looks like it came straight out of an interior design magazine. This tall centerpiece candelabra makes for a beautiful DIY project. Use your favorite colored glass to create a stunning candleholder that can be used as an elegant centerpiece at your next dinner party or even placed on the coffee table for everyday use.
DIY Halloween Candelabra
Bring the festive feel of Halloween to your home with this DIY candle holder. This Halloween, get into the spirit of the season with this DIY Halloween Candelabra. It's easy to make and a great project to do with kids. Making these candlesticks is a great way to reuse old mason jars and have them become festive decorations for your home or party! It's super easy to create and will add a touch of spook to any room in the house.
 DIY Metal Candelabra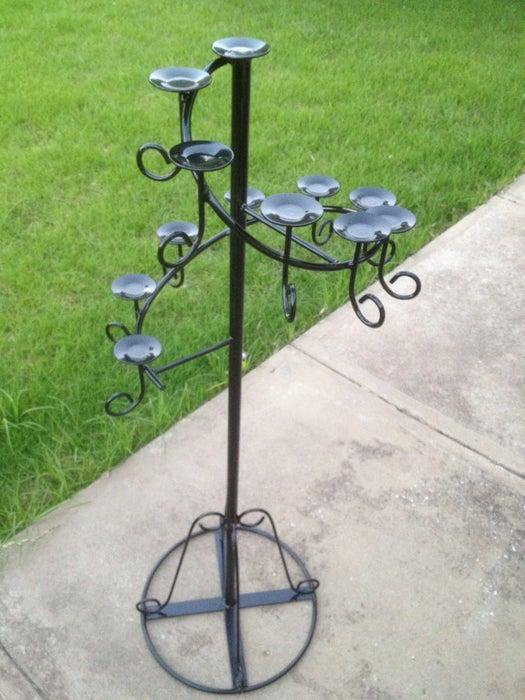 A metal candelabra is an essential piece of furniture for your home. You can use it in many ways: as a book stand, to hold vases, or even as a centerpiece when entertaining friends. It's also the perfect gift for that new homeowner, you know! This unique industrial-style candelabra is made from metal rods, with an antiqued effect for the base and rods. These DIY kits include the 'candles' made from resin and cork, allowing you to place them wherever you choose.
DIY Copper Pipe Candelabra
Have a little fun in the garden with this easy-to-make copper pipe candelabra. Cut copper pipe lengths to your desired height and screw them together. The result is a sturdy candelabra that is perfect for outdoor entertaining. You can also use them inside too! With this DIY copper pipe candelabra, you can set your home apart from the others. With this project only requiring a few tools and supplies, you'll be ready to create your unique piece in no time.
DIY Duchess Candelabra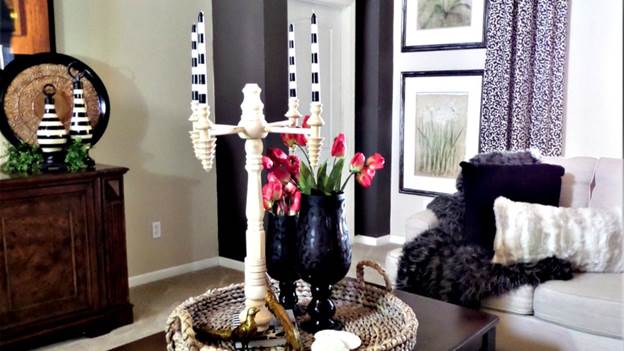 Duchess candles make a charming statement in any dining room, living room, or bedroom. This candelabra is easy to assemble and the perfect way to bring light into your home. Bring a touch of ornate style to your home with this DIY Duchess Candleabra. This elegant candelabra employs four strands of tulle wrapped around a wood frame and attached to a ceiling hook. The height of the candelabra can be adjusted by tying or untying the tulle strips, allowing you to create your own personalized look.
Modern Wood Candelabra DIY
This modern wood candelabra combines the old and new for a refined look that can be used on any table. The candlesticks are made from a sturdy plywood base and feature either round or square holes to hold the candles. With simple assembly, this DIY project is perfect for transforming your home décor. The wood candelabra is an eye-catching piece but can also be used as statement centerpieces at parties, weddings, and other special occasions.
How To Make Wine Bottle Candelabras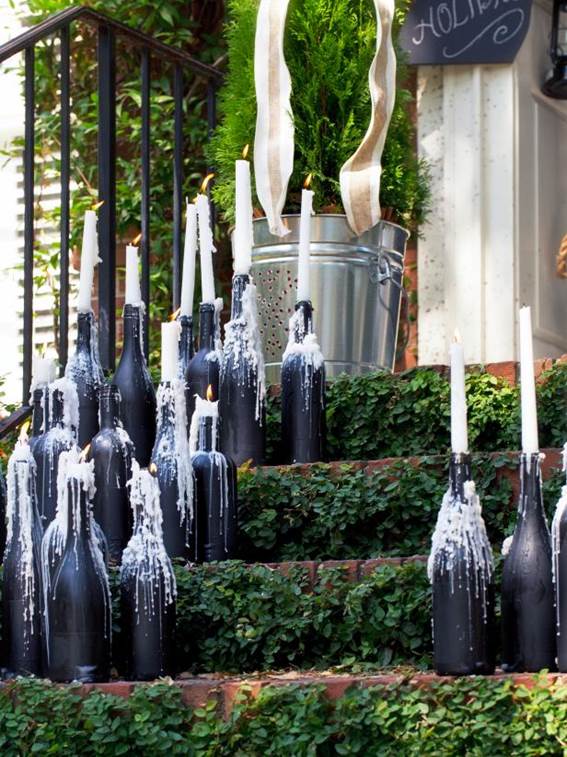 You can easily make a wine glass candleholder home with just a few materials. This DIY Candelabra is an easy project, so get your glue gun ready and start! Enjoy the sunshine's glow by adding these gorgeous homemade wine bottle candleholders to your patio or table setting this summer. The best part is that you only need one item to create your unique candleholder: a clear glass bottle!
How To Make A Yuletide Candelabra
Yuletide is coming, and the days are getting shorter. That means it's time for the candles to be lit and the warmth of a fire to keep you company – but only if you have a proper candelabra on hand! This DIY Christmas project will show you how to make your very own set of silver candelabra. With just a few basic materials and handy dandy tools, this simple project can be yours in no time.
DIY 34-Inch Tall Candelabra
Planning a DIY wedding? Create your own unique and extravagant centerpiece with our DIY Candelabra. The perfect centerpiece for your tables and reception, this tall candelabra is made from steel wire and features 12 arms that hold taller tapers. The 34-inch tall, 20-inch wide base features a circular design making it easy for you to decorate. With creativity and our full instructions, you can create this stunning candelabra for your big day!
DIY Gold Candelabra
This DIY Gold Candelabra is a fun beginner DIY craft you can make in any color you want! It makes a beautiful centerpiece or decorating on a table. Whichever way you choose to display it, we're sure your guests will be impressed! This gorgeous golden candelabra will add a touch of regal elegance to your bridal bouquet and wedding decor. This would make a great decoration at any event, indoors or out!
DIY Candelabra For Halloween
Add a touch of elegance to your Halloween decorations with this easy DIY candelabra. After you have your favorite candelabra and candles ready, this DIY candelabra is easy to make. All you need are some basic materials and a little bit of patience. This decoration would look great on your dining table or sideboard. Include your family in the DIY process so that they can help create a memorable holiday for years to come!
DIY Industrial Pipe Candelabra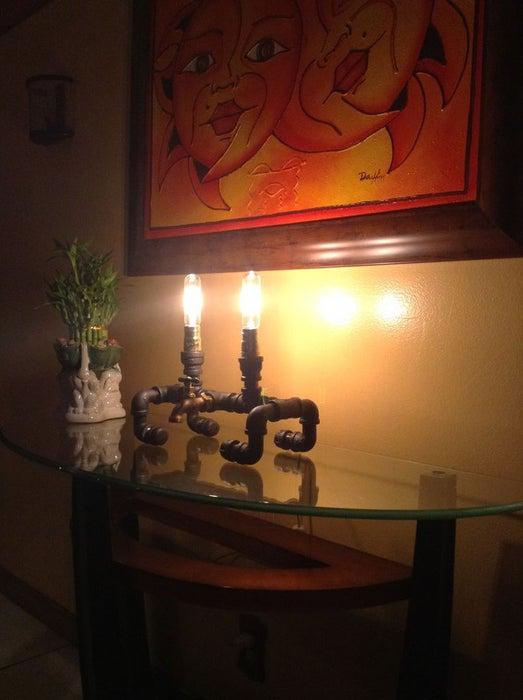 This rustic candelabra makes a bold statement in any space. Its industrial silhouette is sure to fit into any home design. Do this DIY project on your own, or customize it with your favorite paint color and fabric! This easy-to-make candelabra is a great project for the beginner DIYer. It's made from a few pipes, which you can easily cut to size with a saw. Once cut, everything is soldered together for a sturdy piece that looks professionally done.
DIY Neopixel Candelabra
Transform a humble candlestick into a work of art with this source-lighted fixture that uses a different LED color for each candle. The finished product frames the light source with your choice of acrylic or wood, making it look like you worked hours on the project when it takes just minutes to assemble. This DIY neopixel candelabra offers beauty and functionality by illuminating with varying colors depending on the music sources you connect it to.
How To Make Candelabras From Old Bottles
This weekend, make your own DIY candelabras from old bottles. You can make them using various recycled or new materials, including empty wine bottles. They look great as centerpiece pieces or as an extra light in any room of your home. They are also portable and make great gifts at holiday times. Here's how to turn old wine bottles into this simple hanging floor lamp that doubles as a decorative piece in your living room.
DIY Gothic Candelabra
DIY a unique candelabra for your next party with this easy DIY project. Create a striking look in your dining room, living room, and other areas of your home with this DIY gothic candelabra. This DIY is easy to assemble, with step-by-step instructions that are simple to follow, and it uses materials found at most home improvement stores. Create a unique centerpiece with our DIY Gothic Candelabra, or use it as a gift for your favorite goth-loving friend!
DIY Wine Glass Candelabra
This DIY Wine Glass Candelabra is the perfect way to add elegant style to your table setting. The project is easy to make, and best of all, it can be customized with any vase or container for the candle base. Add a beautiful glow to your space with this DIY Wine Glass Candelabra. It features four wine glasses used as candle holders, making it easy to light up any dark corner of your home when needed!
DIY Bloody Candelabra
Here's an awesome way to turn an ordinary candle holder into an eerie, haunting centerpiece: add a splash of fake blood. This easily removable "bloody" technique provides the perfect finishing touches for your Halloween party and can also be used in other types of decorating—vases, statues, and more! You don't need many skills, just a little imagination; some glue and paint will do the job!
DIY Driftwood Candelabra
Effortlessly glam up your space with this DIY driftwood candelabra. It doesn't take much to transform ordinary candle holders into something extraordinary. We love the natural look of driftwood and can't wait to try this project out at home! Add coastal style to your decor with this DIY driftwood candelabra. Spray paint the base a color that matches your room, then glue in some small pieces of wood and light up your space!
DIY Candelabra For Halloween
This DIY Candelabra is an easy craft idea for any Halloween party. The candles are the perfect accent to any Halloween decor. You can even use them after the holiday by placing pillar candles in the center and around the edges of this candelabra. Transform any candlestick into a creepy-crawly candelabra that's perfect for Halloween. This DIY project is inexpensive, easy, and fun. Make one for your next party, and watch the compliments roll in!